Tourist Amazon Spanish Course Activities
You will start your adventure to the Amazon on Sunday at 8:30pm. Students will meet the teacher at the bus terminal of Cooperative Trans Esmeraldas located at calle Santa Maria y Av. 9 de Octubre. Students and teacher will travel through the night to Coca and arrive Monday morning at 8.00am. To get to the Eco lodge deep in the jungle, the group will take a 1 hour motorized canoe ride down the Rio Napo. After refueling with lunch students will have their first Spanish class. From Tuesday to Thursday Spanish classes will be held in the morning starting at 8.30am, for 4 hours. Each afternoon after lunch, students will have the opportunity go on an excursion.
Excursions include:
- Exploring the diversity of the Amazon Jungle!
- Taking in the view from La Torre.
- Walking and observing wildlife in Las dos Ramas.
- Visiting and bird watching at Ecologic Reserve.
- Watching caymans in the darkness of the night!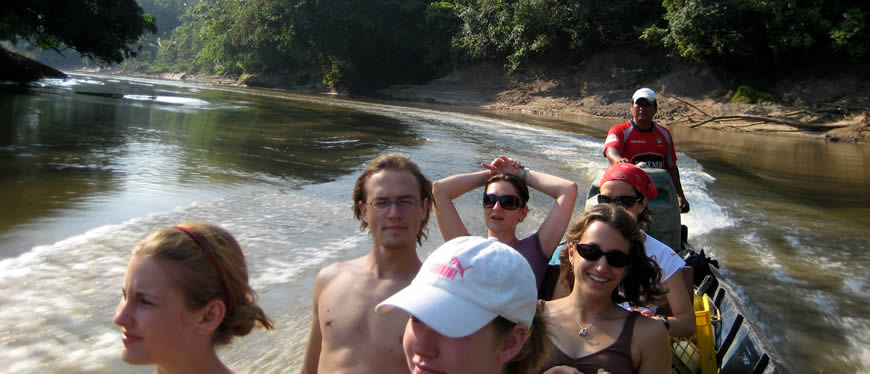 ---
After the Friday morning excursion the group will depart the Eco Lodge at 2:30pm by motorized canoe and head back to Quito from Coca. The group will arrive in Quito on Saturday morning around 7:00am.
---